Panniculectomy
A panniculectomy is a surgical procedure that focuses on removing excess loose skin along the abdomen that has formed into an overhanging "apron" of skin. At HealthPartners Plastic Surgery, we have provided numerous men and women with excellent results from their panniculectomy and can provide you with the expert surgical care you need.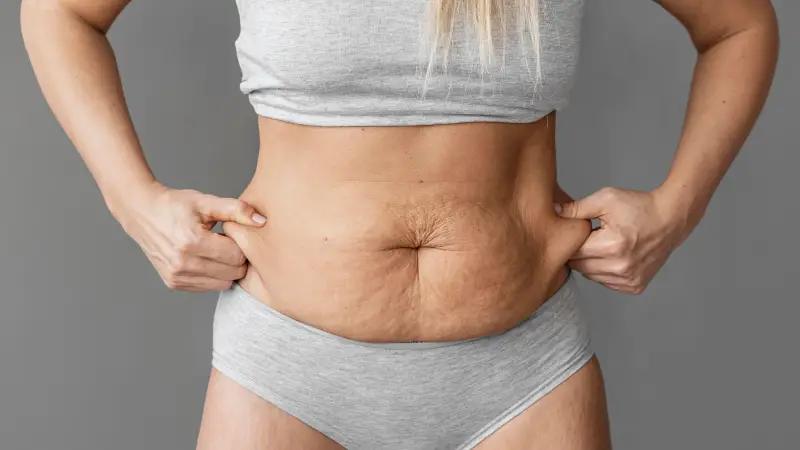 What Is a Panniculectomy?
The hanging skin of the abdomen, called the pannus or "apron" can cause a variety of problems, including the inability to fit comfortably into clothing, difficulty in daily hygiene, yeast infections or cysts in the folds of skin, and lower back pain.
Many people who have achieved significant weight loss can be left with large amounts of heavy, loose folds of skin around the abdomen, which can sag and lose elasticity as a result of being stretched for a long period of time. This excess skin can lead to rashes above the pubic area and along the groin and hips. A panniculectomy can offer relief of these symptoms to enhance your health and appearance.
Different from a tummy tuck, which tightens the underlying stomach muscles, a panniculectomy only removes excess skin and fat. Panniculectomy, which can be performed alone or in combination with a tummy tuck, removes any overhanging "apron" of skin and tissue from below the belly button. This excess skin is most typically a result of significant weight loss (100 pounds or more) through diet and exercise.
She is professional

Dr. Heinrich is actually out of St. Paul MN. She and her staff are all beyond what words can describe. She is professional, kind, and explains things well.
Panniculectomy Candidates
Panniculectomy candidates typically suffer from obesity, have recently experienced significant weight loss or suffer post-pregnancy issues with excessive fat located below the belly button.
You may be a candidate for panniculectomy if:
Excess fat causes health issues, including back problems, breakdown of skin, rashes, ulcers or skin disorders
Your weight has been stabilized for at least one year
You are participating in a proper dietary and exercise plan
You are a non-smoker
You have a positive outlook and realistic goals for what panniculectomy can achieve
You are committed to leading a healthy lifestyle, including proper nutrition and exercise.
Panniculectomy Recovery
There will be some bruising and swelling around the abdomen that will subside over your recovery period. Pain can be managed with medication. A compression garment may need to be worn to provide additional support. Our team will provide you with post-operative instructions to help make the recovery process as easy as possible for you.
Before
After
View Gallery
Panniculectomy Cost
The cost of your panniculectomy will be based determined by a variety of factors. During your consultation at our office, our team can let you know what the expected cost of your panniculectomy will be and let you know about the payment options available to you. Financing options through CareCredit are also available.
Schedule a Consultation
The best way to determine if you are a candidate for panniculectomy is through a consultation with one of our physicians. During your consultation, our team can properly examine the issue and help determine the best course of action. Contact HealthPartners Plastic Surgery today to schedule a consultation for your panniculectomy in The Twin Cities.
Look At Before And After Photos
Contact Us | Book A Consultation
Related Procedures